The prolonged Covid-19 pandemic and major maritime accidents: there is little to be cheerful in 2021 for ship managers, but the ships can't be stopped. In order to solve the difficult situations that ships face, KOM'c keeps providing a variety of services, through our international human network.
We have received orders for the following work recently.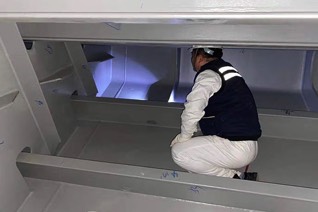 For overseas makers (EGCS system, Mass Flow Meter, and Oil Purifier) : commissioning at new-building shipyards in Japan
For overseas maker (EGCS system) : guarantee-related jobs at local ports in Japan
For overseas shipowners : emergency floating repair at local ports in Japan (Sea Water Pipe renewal job, Hull-damaged repair, Hatch cover inspection, and so on.)
For Japanese shipowners : various services around the world such as:

To dispatch superintendents for dock repair in China. (LPG, VLCC (CAP survey), Chemical/Oil Tanker (CAP survey), Bulker, General Cargo, and so on)
3D Scanning in Vietnam
Motor repair in Korea
New Motor supply in Taiwan
Floating repair in Panama/USA
KOM'c will quickly propose the best solution for your ship's situation. Please feel free contact us.
Back